Over four years ago, when I came to Radio Max in Vienna, I met many incredible people and Daniel Schwingenheuer, a talented radio host, was one of them. But time flew fast and at some point he moved back to Germany. This is actually the place where this whole story started. Back home, Daniel met Gesa Bocks and together they went on a musical adventure and founded a band.
After one night in a park, with lots of falling stars, they decided that kallisto is the perfect name for them. Now they released their first single and now you can find out more about Daniel and Gesa.
Oana Cernat: Hello, Daniel and Gesa. Please introduce yourselves to our readers. Tell me a little bit about you.
Daniel Schwingenheuer: Hey there, I'm Daniel. I grew up in a small city in the western part of Germany, which is called Bocholt. This is where I went to school, learned the trumpet and danced Latin-American Dances for a long time. Then I moved away to study Media Technology in Cologne, but after that I felt like I'm in love with working at a radio station. I thought I'm gonna give it a try, so I moved to Vienna to work as a radio host, which is what I'm doing for profession now. And I'm really happy with it!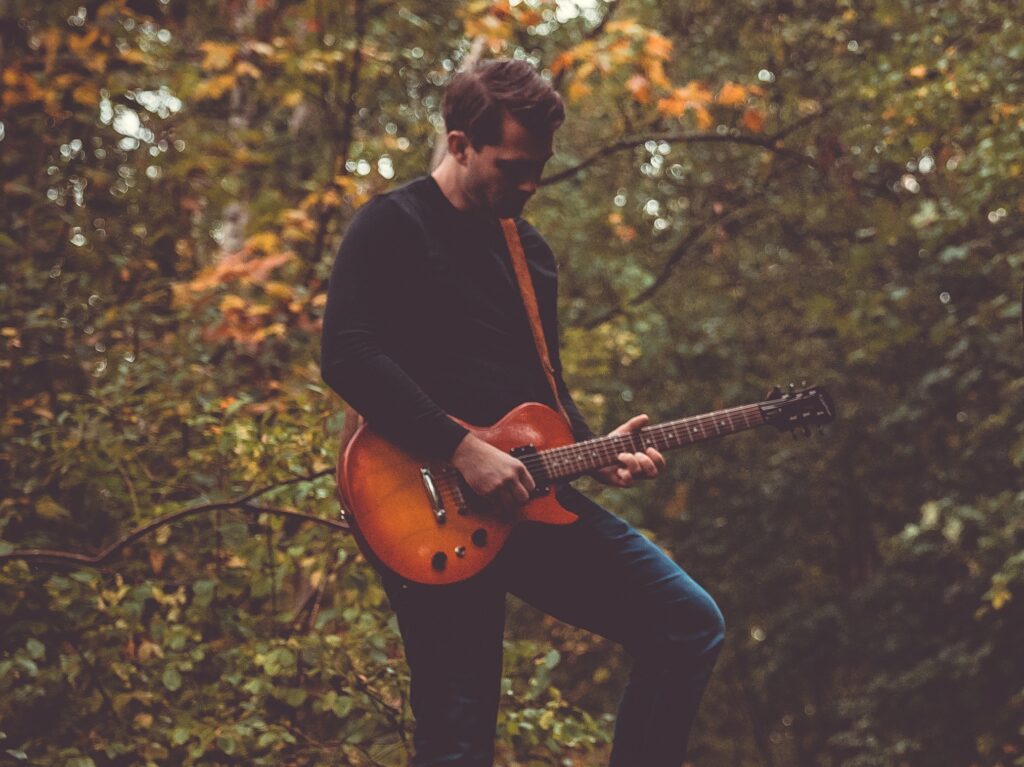 Gesa Bocks: Hey, I am Gesa and I am the singer of our band kallisto. I'm from Düsseldorf, Germany and I've lived in the northern city, Kiel, five years ago, before I came here. I studied singing, acting and dancing in Hamburg, after that I worked at the theatre, and then I went to Thuringia and studied cultural history and phonetics. And there I went to a radio station, where I've changed the stage with a studio and that's what I'm still doing – speaking on a radio station – but singing and dancing are still my passions and a life without music is unimaginable for me. I have a little sister, who is 18 months younger than me. I love dogs and French fries. I am interested in humans, like literally in every human being and in human psyche, I love to be in motion.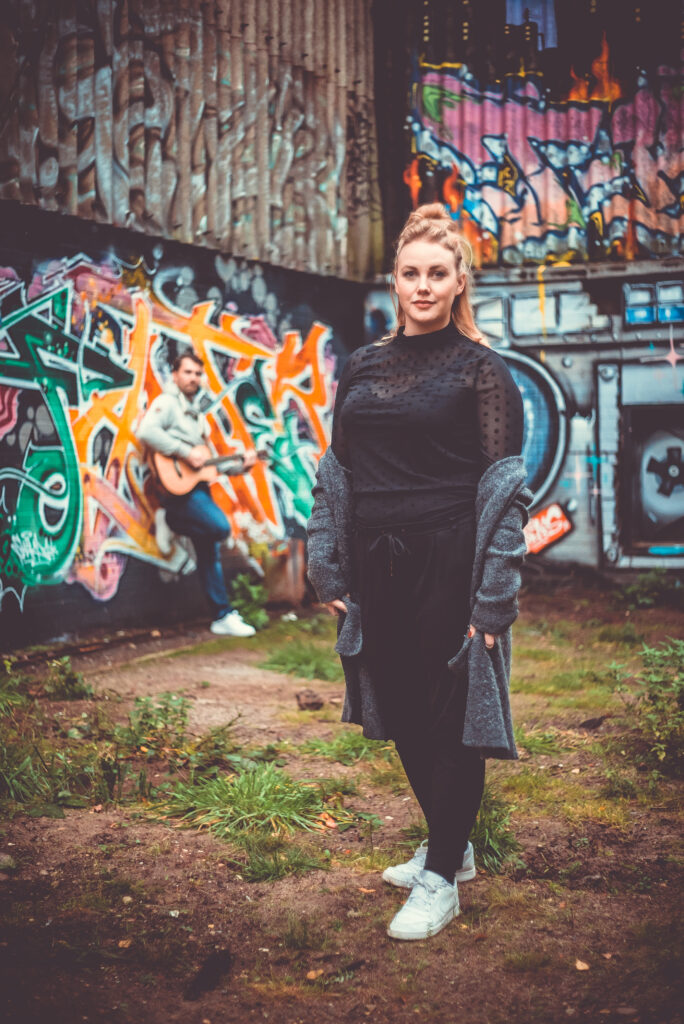 Oana Cernat: What is your first memory of a contact with music? When did you start playing music?
Gesa Bocks: I can't remember my first contact, but my feeling tells me that there was always music. I sang as a little girl on the shoulders of my parents, my dad played tenor horn and we sang a lot of songs in our family. When I was 5 years old I began to dance ballet, because I wanted it so badly and I loved the classical music in ballet classes. There were many times when I closed the door of my room, I turned on some classical music and danced through the room. Later, I started playing piano and taking singing lessons, and that's what I stuck to.
Daniel Schwingenheuer: Well, that was a long time ago. I've got like two careers when we are talking about music. When I was ten, my parents dropped me at a music school and I started to play the trumpet, which I did for a couple of years. But to be honest, I never really practiced and I was always happy when my teacher wasn't too annoyed because I couldn't play the songs. I also played in an orchestra, but I always played like in a very silent mode, like if I wasn't there. So after a couple of years I was happy to stop doing that!
"We've talked about making music and decided to meet for a little jam session."
Oana Cernat: So music has always flowed through your veins. How did you two meet and how was kallisto born? Can you explain the story behind it?
Daniel Schwingenheuer: Well, that has to do with my second career. When I was studying in Cologne, I started thinking about what life's about. And honestly, it's about moments you remember. And for me, the most beautiful situation involves a holiday, sunset, a fireplace and someone playing guitar and singing. Since there are less and less people who can play guitar, I felt like I have to do it myself. So, Christmas 2014, I got a guitar and since then I'm in love with it. When I moved to Kiel, I told Gesa about it. And since she's one of the greatest singers in this world, we decided to meet up for a cover music evening. I still don't know why she was happy with my guitar skills back then. But she was and we started practicing. By now it got a lot better, hopefully, ha, ha.
Gesa Bocks: We met at the radio station. Yes, we are working together and we've talked about making music and decided to meet for a little jam session. Hell, I was nervous! And I know Daniel was also nervous and so we sang and played the guitar with tumbling voices and fingers, but it was really fun and we did it more often and then there was this open mic session, where we wanted to go and perform. And we thought, "ok when we'll be on stage we need a name for our little band" and we thought about it, and we had one night in the park with lots of falling stars and we watched the sky and we both didn't know too much about constellations, only the Big Dipper and then we found the tale of kallisto, of the bear who was banished up into the sky. And that's the story of the band's birth.
Oana Cernat: Awaw, this is a romantic encounter. Isn't it incredible how music can bring people together?! When and how was the first song made? Which was the best moment when you recorded it?
Gesa Bocks: He, he! Yes, that's true. Our song "Optimisten" has a really good story, because it was all a little bit by accident. We have an Instagram account and we went to some open mics and we posted about it and then there was our producer, who wrote us a DM and asked us if we can try and produce a song with him. And then we met him at a pub, drank some beers and talked a lot. After this evening, all of us thought that we could produce a song together. And then the work began, we met at our rehearsal room and made some test records. Henner (Henning Terstiege) asked which topics we are interested in, and I sent him a little note about optimism, if it is worth to be optimistic, and that I hope that it is worth and that it's good to hope for a better world. And out of this note, Henner wrote the song. And in the first moment, when he sent us the lyrics we were both really happy and excited, and then we got to his studio for the recordings.
Daniel Schwingenheuer: The time in the studio was quite intense. Since Henner produced the song for us in his spare time, we always met up at night when his kids were already sleeping. So after a long day at work we drove to his house and studio about half an hour from here. And we always bought Maté for him, since he needed caffeine for the night. I remember especially one time when we were working 'till 3AM. That night, I think Gesa recorded the first two verses. And we finished doing that around 1AM at night. And we felt like: that's it for today, but then, suddenly someone asked: any idea for the third verse? And we started writing. Somehow, this mixture between tiredness and excitement created some really good parts. Similar, but different to the first verses of the melody. Another really exciting night was when I recorded my lyrics. Never done that before and I felt like a little boy going to school for the first time: overwhelmed and super nervous.
Oana Cernat: So everything is really intense when you are doing music. Especially when you are creating music in the middle of the night. Is there anything special that you do to get into a creative mindset? What inspires you to be creative?
Gesa Bocks: I think everything inspires me. Sometimes a hike in the mountains, sometimes a train ride, I have many moments when I write some notes into my Smartphone or into my notebook but then I get stuck. I often have some ideas for topics, some lines, sometimes the whole lyrics, but I find it so, so, so, so difficult to make a melody and everything out of it, and there is a lot of work to do to to get to the next level, but it's fun doing it. Sometimes I wish I had a little bit more time to sit down with Daniel and work on our ideas, I think that is the biggest point. You need time and freedom to be creative.
Daniel Schwingenheuer: Well, I guess everyone has everything inside themselves to do music. That's the beautiful thing about music. Every day, every second, you feel something that probably is a source of inspiration for the most beautiful song in the world. Fear, anger, tiredness, happiness, whatever. But, that's only the theoretical part. You need the skills to transform your feelings into music, into sounds and lyrics. For me, this works best when I'm alone and chilled and there are no appointments left for the day. Though I've got to learn a lot and would love to have even more songwriting skills, this is when I feel like I'm closest to what I can do at the moment. And still, the work about it is the time it takes until it's flowing.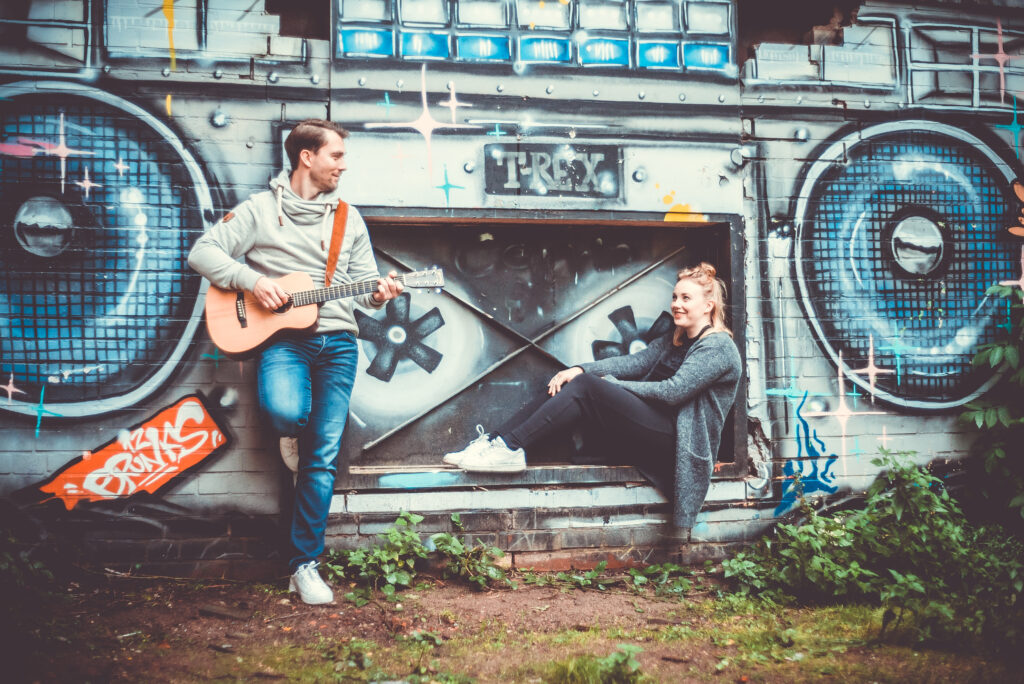 "I think our song helped a few people to be a bit more optimistic in these times"
Oana Cernat: This reminds me of a famous author who said that everyone is a song. A beautiful one. How was the song "Optimisten" received by the German audience?
Daniel Schwingenheuer: Optimistic.
Gesa Bocks: We got a lot of positive feedback, but no, it didn't land in the charts on the 1st place or something, it is a little underground song with a lot of heart in it and I think we've touched many people in a crazy time. And you can listen to it on all music platforms: Spotify, Apple Music, Google Music, Deezer, Youtube etc.
Daniel Schwingenheuer: Well there was a huge coincidence considering this song. It took us like three quarter of a year from the first line till we released it. And in the end, it came out within the first days of the Covid-19 lockdown here in Germany. I guess it helped a few people to be a bit more optimistic in these times, even though we didn't knew anything about Corona when we started writing it.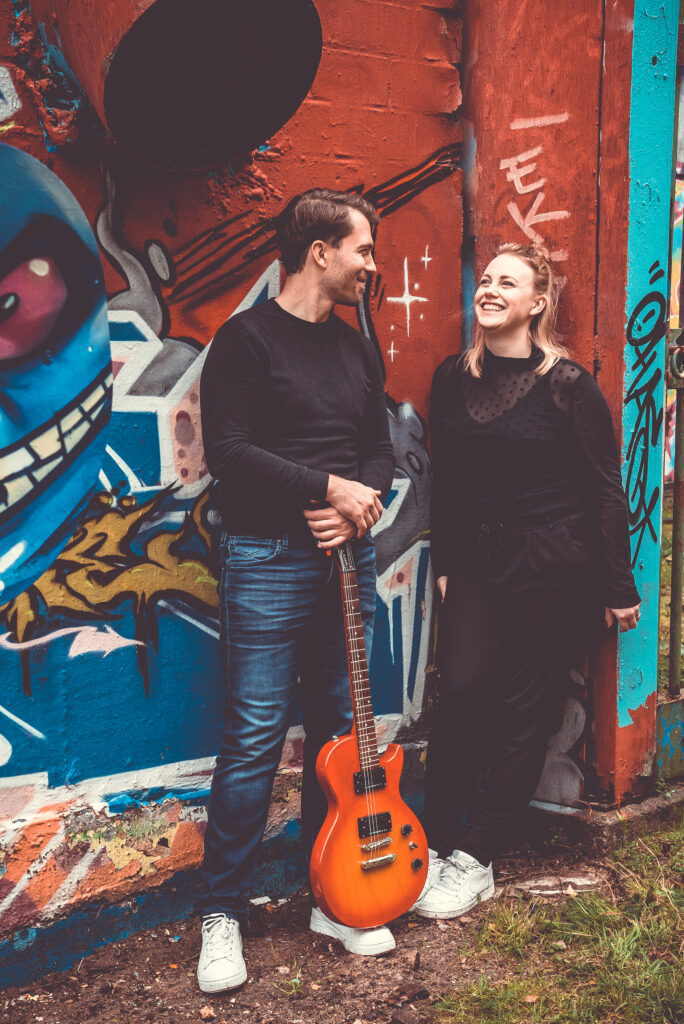 "It is a gift in times like these to have a passion"
Oana Cernat: Would you say that your music also somehow helped you two during these strange times?
Daniel Schwingenheuer: Well, somehow, but probably not in the most obvious, content wise way. It's more like this time was one of the most exciting ones in my life. It's a really special feeling when you suddenly see your own name on platforms like Spotify. Seeing our first song, available for everyone around the world was very special. So you feel like you're living on a high anyway, that's why Covid probably didn't pull me that low back then. And honestly, that was when I first said: I'm an artist now!
Gesa Bocks: Yes absolutely, it is a gift in times like these to have a passion which you can live off of. But I think we are also very glad to have a job which wasn't affected too much by the crisis. I think a lot of musicians had a really anxious time, because their income source has been affected so much in the past few months.
Oana Cernat: I can see now where the optimism is coming from. Do you have a favourite concert venue where you would like to perform when this is over?
Gesa Bocks: Last year in autumn, we did an open air concert at the beach and this was really cool and I would love to do it again. But a silent wish would be to play on a festival stage in summer. But I think that until then we have to write more songs, because I don't want to do cover songs on a festival stage.
Daniel Schwingenheuer: Well, I was pretty impressed by Ed Sheeran's stage on his world tour. I guess he doesn't need it anymore since he's a daddy now and probably wants to be at home with his family. I'll probably ask him if we can have it.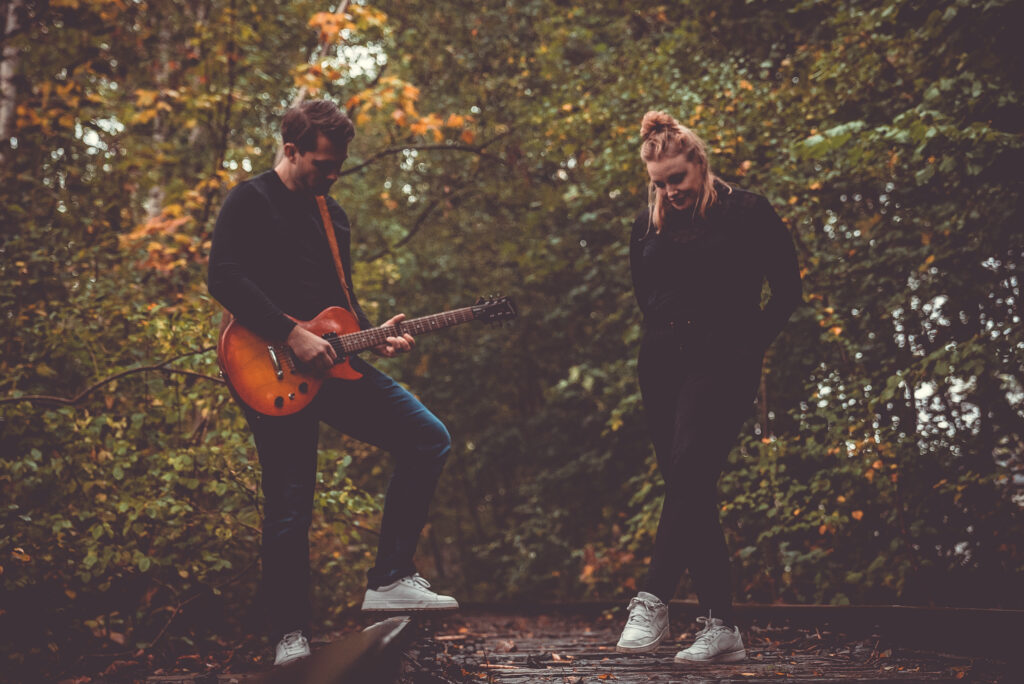 "There's only one life, if you have any dreams, any things you want to do, now is the right time."
Oana Cernat: He, he, yes, please call him. And then bring that stage to Vienna, we miss you over here. What lessons did you take away from lockdown in terms of music?
Gesa Bocks: I think the most meaningful thought or awareness in this time is, that in some way you have to be humble and thankful for your life and your freedom. And sometimes I am a bit frightened by all of these conspiracy-theory people and I think it is so, so important to hold together and make things that keep you happy. And I think that's a thing you can also transfer to music: solidarity and love.
Daniel Schwingenheuer: I'm spending a lot of time with my guitar. And after that song, I felt like I wanted to be much better, so I went back to work and searched for a guitar teacher and I found a really good one. But that's only technicality. One thought that's going through my mind again and again and again is: there's only one life, if you have any dreams, any things you want to do, now is the right time. Don't let any feelings keep you from doing that. I'm not talking about breaking any necessary rules at the moment, I'm talking about listening to yourself. Is there anything inside you that you always wanted to do? Then do it. If you feel like you want to change your life, do it. Don't waste time by saying to yourself you will do it tomorrow. It gets harder the longer you wait. And Covid taught us all how worthy life is!
Oana Cernat: Guys, you two are real poets. When are we going to hear a first album from you? Do you have any definite ideas for the sound you would like to add to it?
Daniel Schwingenheuer: Haha, we probably take our last answers as lyrics.
Gesa Bocks: Haha thank you.
Oana Cernat: Yes, you should make a song about everything you said in this interview.
Daniel Schwingenheuer: Well, honestly, I have no idea. Kallisto always "happened" – all I want to do is to create music, since I feel alive doing it. And I guess there will be a time when it feels like it's right to make an album with our songs. But that's not now. When this time will come, it will be on vinyl, definitely!
Oana Cernat: The black gold!
Gesa Bocks: Yeah, when we are going to release our first album….? That's a good question. I don't know when, but yes, I would love to have an album, and I think it will come, but I can't tell you when. Our sound will be between pop, a little bit of electronic, nice things in it, but not as "the stars". The first thing you will hear is guitar and voice, that's our base. We wish to create something that's not the "normal" pop, but a little bit of a special moment in it and we're really curious how it's gonna be. And yes, vinyl is a must!
Oana Cernat: Looking forward to hearing more about your musical adventures and to holding your vinyl in my hands. I wish you the best of luck, lots of inspiration and optimism along the way. Thank you so much for your time and your lovely thoughts.
Daniel Schwingenheuer: That was so cool!!! Thank you so much!
If you loved this interview, you may also be interested in:
Interview with the producer Jorrit Kleijnen: "Music is the most sophisticated language that I can speak" (Part 1)
Interview with the producer Jorrit Kleijnen: "Music is the most sophisticated language that I can speak" (Part 2)
Interview with Marijn van der Meer, the velvet voice of HAEVN: "There's something about writing and recording at night, it unlocks different feelings"
Interview with the producer Rui Reis Maia: "When I create music I try to make it from some kind of feeling and I want people to just feel it"
Roo Panes released two songs from his next EP
All images are under copyright © Tim Näve.