Before the world went on lockdown, I had the chance to meet Brian Fennel (SYML) and to record an interview with him. It was a lovely day with perfect weather when Brian arrived at the City of Music.
We've met in Grelle Forelle, an interesting club located in the 9th district of Vienna, on the banks of the Danube canal. This place is well known for being a space to educate music lovers, as well as entertaining them. Many artists made a name for themselves here. When I stepped in, Brian was doing his rehearsals and I will cherish that flashback forever, since this pandemic is making us crave in-person concerts so badly!
Brian was born in Washington and he started playing the piano when he was just a kid. I have known his music since Brian was part of the indie band Barcelona. "Please Don't Go" was my favourite song and later on I was very happy to discover his solo venture called SYML and this interview will take you behind the scenes, so please keep on reading to find out more about his music.
Oana Cernat: Hi, Brian and welcome in the City of Music! How do you find Vienna so far? As a musician, do you feel like a fish in the water here?
SYML: Hi, Oana. I find Vienna very lovely, it's the perfect weather and I've noticed that it's a very clean city and people are being very kind. It's my first time in Austria and I'm loving it.
Oana Cernat: We are really happy that you came to Europe to give us beautiful Live experiences from your new album – which is outstanding. You are so honest in expressing your emotions. What are your fans telling you?
SYML: I haven't actually heard any negative feedback, I think it's more like once you put it out into the world, it doesn't matter what people think because that's what you have to do as an artist: just fully let go once it's out, move on and find out what's next for you creatively. The feedback that I heard of is extremely positive and it's always fun to play new songs live.
Oana Cernat: Simple (SYML) is more, right?
SYML: That's right, simple is always better.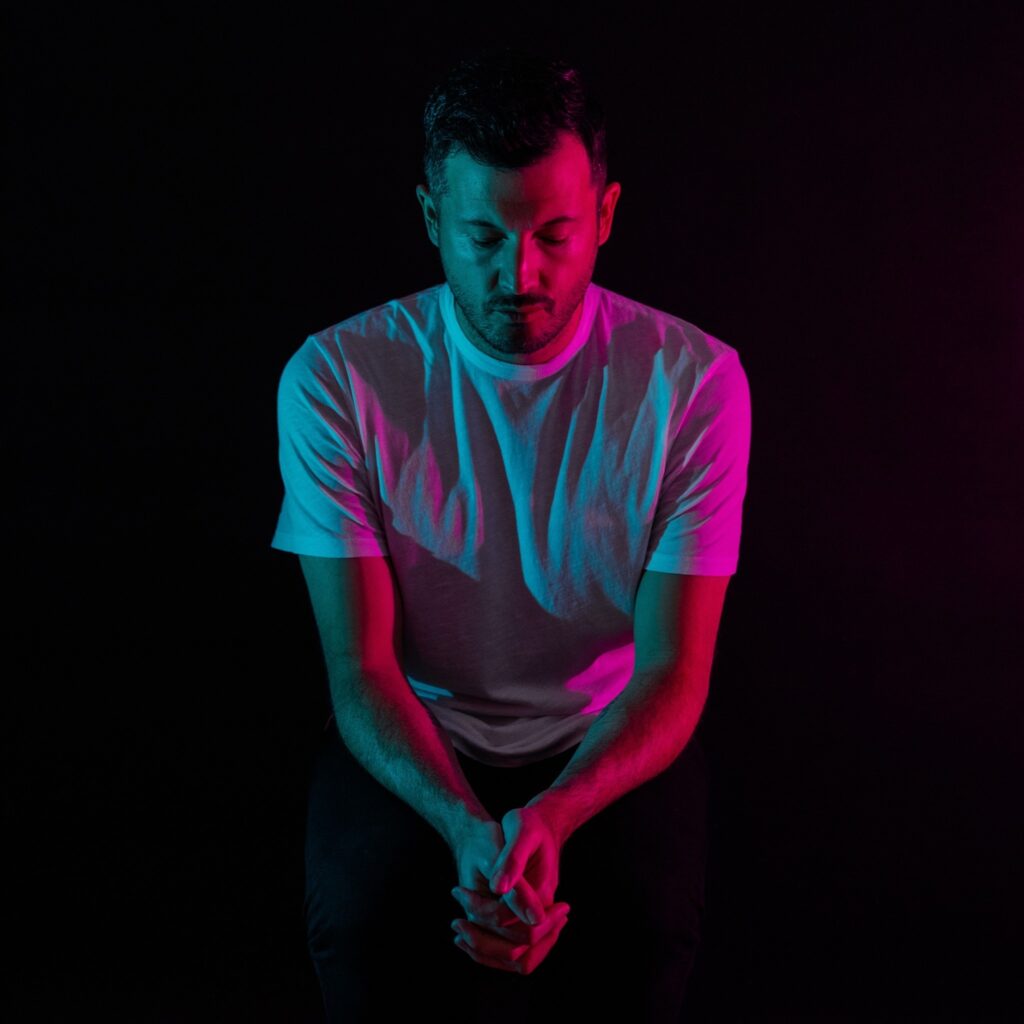 Oana Cernat: You said that this album is about the common threads and mysteries that connect us. There is curiosity in the dark and beauty in the broken. Can you tell me which one is your favorite song from this album?
SYML: I think it's kind of an unfair question because my favorite song is called "Girl" because it's for my daughter and it's about a difficult time that we went through as a family with her health. Now she is healthy and well, but the song has helped me digest what was going on. And the song is mostly for her too, not just for me or the fans. Playing that every night is really fun.
Oana Cernat: So it's like a therapy and a legacy at the same time.
SYML: Yes, it's very therapeutic.
Oana Cernat: It's really nice and maybe the song will make her cry when she will grow older. And all those lyrics such as "falling in love is a strange work of art"are so beautiful!
SYML: Oh, yeah, it will make me cry too. It was one of those songs that came really quickly. The song came quickly and the words are exactly what I meant to say. So it was unusual in that way.
Oana Cernat: Is this the easiest song that you made in terms of writing?
SYML: One of the easiest, definitely. Before it was done, done, it took me probably a couple of days, but the main beat of the song took only three or four hours.
Oana Cernat: And on the other side, the longest?
SYML: There is this song on the album called "Where Do We Go, I Love You" and it took me like eight months, it was a big challenge but just because I kept adding stuff to it. It was just a minute and a half and then I made it much longer.
Oana Cernat: You once said that people who like your music are fully comfortable talking about their feelings. Why is that?
SYML: I don't know. I mean I feel very lucky that they are like that, but I don't know why. I think music is obviously a universal language that a lot of people can speak and be moved by and understand, even though there's no words sometimes. So, music that I like is comforting, it's also challenging, and uncomfortable sometimes, which are elements that I like to include in music for sure.
Oana Cernat: "Where's My Love" was like a turning point for your career. What does this song mean for you?
SYML: It did change the game and it gave me a reason and the ability to write more songs for SYML project. So, I am very thankful for that song.
Oana Cernat: I am amazed at the authenticity of the feelings that I hear and feel in your music. "Before You Knew It Was Me" – what is the story of this beautiful song?
SYML: Originally, I wrote that song and it just had some lyrics like in the back for half of the song, but I just turned the mic on in the studio and started talking about when me and my wife met, in the very early stage of our relationship, just like freestyle talking and then I decided to take it out and just make it instrumental because I wanted to end the album with something that was looking forward to me. Music sounds like going somewhere and I wanted to end the record like I was going to some place new literally, but also creatively.
Oana Cernat: Let's go back in time. When did you start with the piano?
SYML: I was probably six or seven years old when I started taking piano lessons. We had a piano at home, so it seemed pretty easy to start and try. Then I took lessons through college basically and I got my degree to teach music, all because of piano.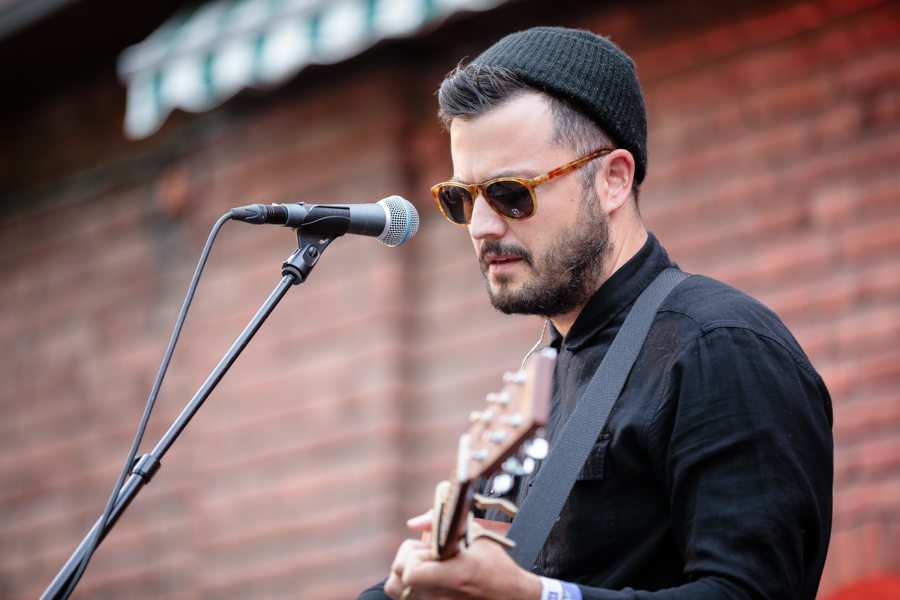 Oana Cernat: Were there any musicians in your family?
SYML: No, they just inherited a piano. My mom or dad didn't play the piano and my sister tried it a little bit after me, but she didn't really stick with it.
Oana Cernat: Are you giving small concerts for your parents at home?
SYML: I do around holidays: I'll come and play Christmas music or something for them, but when I was little, I had to do proper recitals in a church or something, where all the students come and play. It's crazy to remember, they were really long pieces of music and we had to memorize them and I don't know how I did it as a kid, it's crazy.
Oana Cernat: I think the question how you did all those songs of yours is more complicated.
SYML: Also weird, I'm not sure how, very strange.    
Oana Cernat: What was the first song that you wrote?
SYML: Ever, in my life? I think I tried to write a really bad R&B song when I was in 7th grade or something for a girl, not sure, and then I didn't write any music until I was in college basically. There is a bluegrass band called Nickel Creek and I don't think they ever made it over here, but they have beautiful pop songs with kind of folkie and country sound and I fell in love with that album and I sing a lot with my friends, we had like a cover band in college and I wrote three songs for that band, so those were my firsts real songs.
Oana Cernat: Who is the most important musician who influenced you?
SYML: Probably Jeff Buckley because it has one of the most unique voices. There is also Patrick Watson who I'm a big, big fan of as well. He was instrumental and shaping what my voice turned out to be and also my melodic choices.
Oana Cernat: Tell me three songs that everyone should hear.
SYML: I think the new Bon Iver is great, he had a song that is called "Hey, Ma" that is amazing and also "Faith" is amazing too on that album. "Don't Miss It" by James Blake is also beautiful and the new project of Brandi Carlile called "The Highwomen" with the song that I really love: "If She Ever Leaves Me".
Oana Cernat: Tell me a bit about your concerts in Germany.
SYML: This first leg of the tour is mostly in Germany and this is where some of the biggest radio success happened in the last few months. And there are so many cities and markets, so we had to pick just a few to be able to go on a short amount of time. But it's cool because Germany is kind of the size of Montana in the States, so you can tour pretty easily, it's got everything well connected. But now we are in Austria and we are going to Zurich and I think that might be outside Germany. It's nice to have it all compartmentalized before we can come back and do France, Netherlands and Belgium etc.
Oana Cernat: Have you seen on Spotify where most of your fans are from?
SYML: I used to know it, but this kinda changes from time to time. There are lots of fans in the Middle East, the number is surprising, also in the Netherlands and Belgium, UK and USA too. But I don't know who is winning.
Oana Cernat: What is your favorite place in this world to have a concert?
SYML: One of the best concerts that I have ever had were in Amsterdam. It's a magical place with a really good audience.
Oana Cernat: Do you think it takes a lifetime to understand music?
SYML: Yeah, I don't think you'll ever arrive in music. Until we die, music will hopefully continually change for all of us: listeners and artists. I don't think it will ever stop changing.
Oana Cernat: Tell me something about you that will surprise your fans. Something that they don't know.
SYML: I kinda have OCD tendencies. When I was little, especially I had like a bunch of OCD tendencies that I obsessed or I had a number in my head that I had to do things a number of times: to check if the door was closed or tap certain things in a certain order in my room. And it's interesting because I have a four-year-old kid now and he has some of these things that I had when I was a kid. I don't really deal with it anymore but it was like a big part of my childhood that no one knew about.
Oana Cernat: Have you seen the sitcom "Monk"?
SYML: Yeah, I know who he is. That's his thing, right?
Oana Cernat: Yes, and he is really smart. That's the thing with OCD people, they are really smart.
SYML: Well, I'm super intelligent, so it makes sense, ha, ha!
Oana Cernat: After all these years of beautiful creations, what would you tell to a younger you?
SYML: I'll tell to not wait around for people to help you. You just have to get up and do things. And crush to do them, and fail them and not be scared about that feeling. I think I was limiting to myself early on, because I thought that somebody else had to help me or do it for me. It's not that I was lazy, but I was waiting around and in music industry I think this is something common. Because people think "Oh, I need a label, or a booking agent and fans". You just have to have patience with stuff you can't control but if you can do it, go out and do it.
Oana Cernat: Are you at the point that you've been dreaming about?
SYML: I don't know if I really had a dream of how I am doing it now because it's always changing. If I'd limited myself to just dream, I think I would've been too focused on that and missed all the good stuff. Am I doing music as a job? Yes, definitely. That's anybody's dream: to be able to do what they like as a job. But I haven't god a dream to play in a specific venue, with this many people and become famous or something.
Oana Cernat: What is one song of yours that you are craving to sing tonight?
SYML: We are doing four new songs tonight and one that just came out, so I'm excited to sing all of them. But the second last song on the album is one of my favourite songs, so we're closing with that and I'm really excited about it.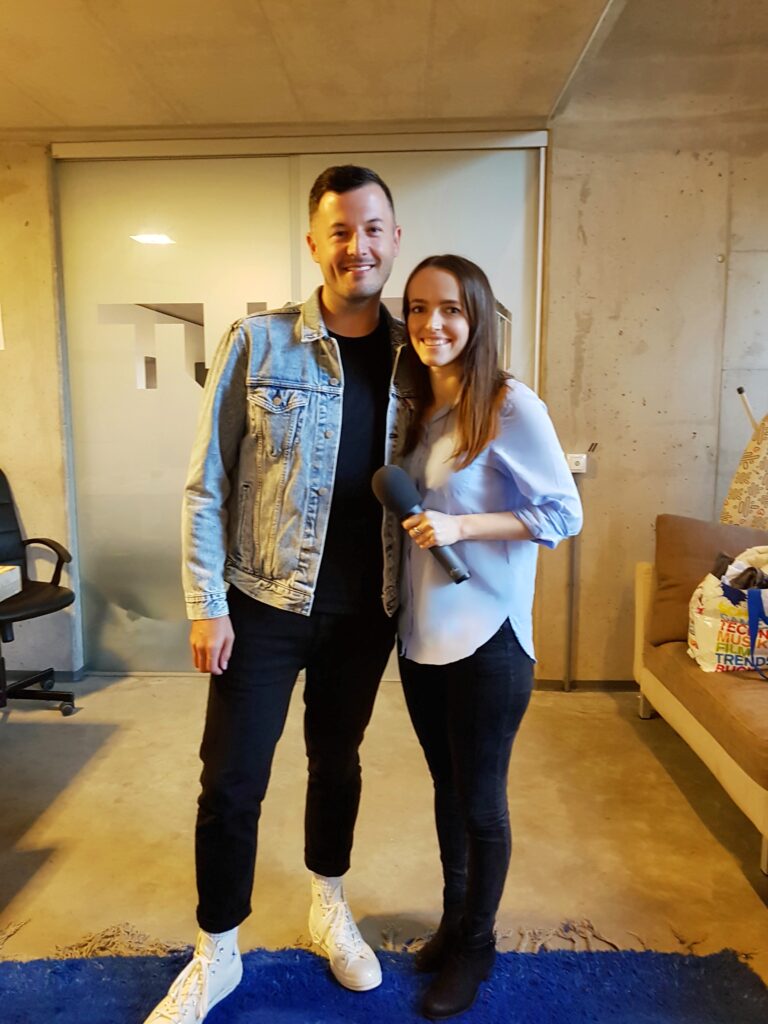 Oana Cernat: Can you tell us when are we going to hear a new album from you?
SYML: Before a new album, you will hear a lot of new music soon.
Oana Cernat: In the end, a piece of advice for someone who would like to become a musician.
SYML: Don't wait around and don't think that you can't do something. When I started SYML I had no money and I just thought that I was pretty much a singer and I can play a couple instruments and I couldn't record myself and I wasn't even a bit a producer and I just said "fuck it, I'm gonna try and it probably gonna suck at first" but that's the hardest thing to do, to just start. Just move your body and start it, that is the most impossible thing in people's minds and it's not impossible, you just have to do it.
Oana Cernat: I also loved what you did before SYML.
SYML: Yeah, Barcelona was ten years of my life. It was a long time.
Oana Cernat: Do you miss those times?
SYML: No, I don't. There are a lot of good things about it, but I was in another life, I didn't have a family yet and I had a different set of concerns, so I don't miss that time. 
If you loved this interview, you may also be interested in:
"Throw Me A Line": the new mesmerizing song released by HAEVN is pure gold
Interview with the producer Jorrit Kleijnen: "Music is the most sophisticated language that I can speak" (Part 1)
Interview with Marijn van der Meer, the velvet voice of HAEVN: "There's something about writing and recording at night, it unlocks different feelings"
Interview with the producer Rui Reis Maia: "When I create music I try to make it from some kind of feeling and I want people to just feel it"
All images are under copyright © Brian Fennell & Oana Cernat.
All pictures on oanacernat.com are taken by Oana Cernat, unless stated otherwise and are protected by copyright. Always link back to this website or request permission when using content from Oana.